Czech crown jewels "within reach"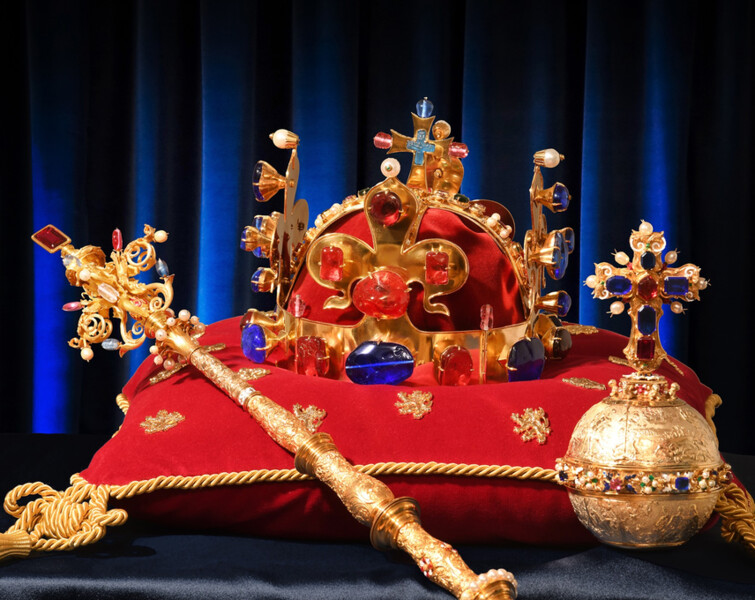 Czech crown jewels "within reach"
Lives of 22 crowned monarchs
Company "Putovní výstavy CZ" presents the unique exhibition in the castle gallery in 2nd courtyard. The so far the most successful Czech exhibition project returns to Southern Bohemia after five years.
The story of the crown jewels is connected with the history of the Czech state for ever. It started during the reign of the Holy Roman Emperor and Czech King Charles IV, when other crown objects were added to the Crown of Saint Wenceslas, which create the core of the Treasury of St. Vitus Cathedral.
The masterly created replica of the Czech crown jewels and sword will be exceptionally exhibited together with the replica of the medieval sceptre and orb of Holy Roman Emperor Charles IV. Thus, after four centuries, the crown of St. Vitus will imaginarily meet the rest of the original set of crown jewels.
The lives of 22 monarchs are presented on the information boards, pictures and exhibits most accurately ilustrating the eras of their reigns. The most interesting exhibits are the Order of the Golden Fleece, festive dress of the Holy Roman Empress Maria Theresa, crown coat of the Holy Roman Emperor Ferdinand II, official replica of the Infant Jesus of Prague, examples of the Hussite weapons, facsimiles of the medieval documents and others.
The author of the excellent replicas of the crown jewels is one of the best Czech and European goldsmiths, legend among the jewellers - Jiří Urban, who created the jewels for the Queen of the United Kingdom Elisabeth II, the cross for the Pope John Paul II, replica of the imperial crown of the Holy Roman Empire and lately also the replicas of the crowns of Aachen and Lombardy.
The details of the working procedures are showed in a documentary movie.
The exact replica of the crown sword was created by the armourer Patrick Bárta
www.ceskekorunovacniklenoty.cz
Production of the exhibition: Mgr. Petr Lukas, Tel.: 605 972 588, E-mail: letohradekbrno@seznam.cz
The exhibition is open in the mentioned terms except for Mondays.
The entrance is in the castle ticket office.